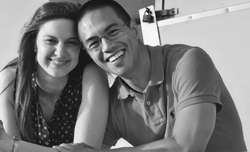 Hi there.  My name is Carlo.  For a very long time I've sought out, collected, and loved REALLY good questions.  Thanks so much for being here you fellow question-lover, you!
This is a curated collection of only the best questions from blogs, books, articles, podcasts, YOU(!), and lots of other places.  Questions come from everywhere but it's very common that a webpage of 100 questions will only yield 2 or 3 Way Better Questions.
FINDING THE QUESTIONS YOU WANT
Sort WBQ lists according to life's most common interactions.  Or search the site.
RATING AND REVIEWING THE QUESTIONS
For any question you find here, if you've used it out in the big wide world please do feel free to rate it and write a review!  Tell us how you used the question, with whom, how it went, if you'd change anything about how/when you asked it, etc…
The more reviews and ratings we have, the more useful the site becomes for everyone here.
THE MAILING LIST
If you dig what we're building together, please join the Way Better Questions mailing list.  No junk ever.  Just our top 3 questions sent straight to you every Monday morning.
SHARE YOUR FAVORITE QUESTIONS WITH US
I am ALWAYS looking for great questions.  If you have a question that you want to share with the WBQ community, shoot me an email: carlo@waybetterquestions.com.  That would be awesome!
GIVING CREDIT WHERE IT'S DUE
Absolutely whenever applicable, I'll list the sources of the questions used.  If I've "thought of" a question myself it will be labeled a "WBQ Original" (which is still kind of weird because it's pretty stupid to imagine that an individual "invents" a question anyway).
That's it!  Let's SAY different things to each other.  Let's ask different questions.  Let's be better to the people in our worlds.  I'm a huge believer in the power of that.  I'm a huge believer in you.  I'm so relieved you're here now.   Onward!
~ Carlo